Thank you for contacting Shingle Max, a representative will contact you shortly.
Serving Northern Nevada and Northern California
as well as the Bay area and surrounding cities
Contact us for your local vendor
Restore your roof to the
max
Go With The
Shingle Max

Treatment!
Asphalt shingles are a popular choice: they're sturdy and look great. However, what happens after a decade when they were first installed? They start to show signs of aging with cracks and fading. Usually, homeowners would replace their existing roof shingles, but there's a better and cheaper alternative.
Shingle Max provides an experienced team and state-of-the-art products to rejuvenate your existing residential or commercial roof to make it not only look brand new but also extend its lifetime by 5-10 more years!
format_quoteWhy Should I Rejuvenate My Roof Instead Of Just Replacing It?format_quote
Did you know that 90% of roofs being installed could have just been repaired and treated. There are many companies and products out there that can help in extending the life of your roof's shingles, but none of them come close to the Shingle Max treatment.
There are numerous benefits in allowing Shingle Max to rejuvenate your roof. Not only is it great for the environment and roof shingle strength, but it's also great for saving money! Rejuvenations are only a fraction of the price of installing new roofs, and it's perfect for homes with existing solar panels as it's very expensive to remove and reinstall those panels during a roof replacement.
We do residential and commercial applications and can treat your roof up to 3 times depending on its condition. Plus, every treatment comes with a 5-year warranty that's 100% transferable.
attach_money
Saves You Money
Rejuvenating your roof is only a fraction of the price of installing a brand new roof
recycling
Environmental Friendly
Helps cut down on waste in landfills since old shingles that are replaced don't end up in them
heart_plus
Healthier Shingles
Increases the flexibility and storm impact of your shingles, further extending its life
Engineered

For The Best Rejuvenation Possible

Soy bean oil-based rejuvenators have been used for years to restrengthen asphalt, and we have adapted this for your asphalt shingles.

Lab-tested and field-proven, we use an all-natural but strong formula that restores your shingle's flexibility, restores oils lost over time, increases its granular adhesion, and both removes any existing moss and algae growth and prevents it from growing again.
Financing Available
We are offering 100% financing on approved credit with low payment options to fit any budget.
The Difference Is Clear
Free 6-point roof inspection with every estimate!
Call us at (877) 766-3818 or use our online form and we'll get you started with a free roof inspection and estimate. Give your roof the Shingle Max treatment it deserves.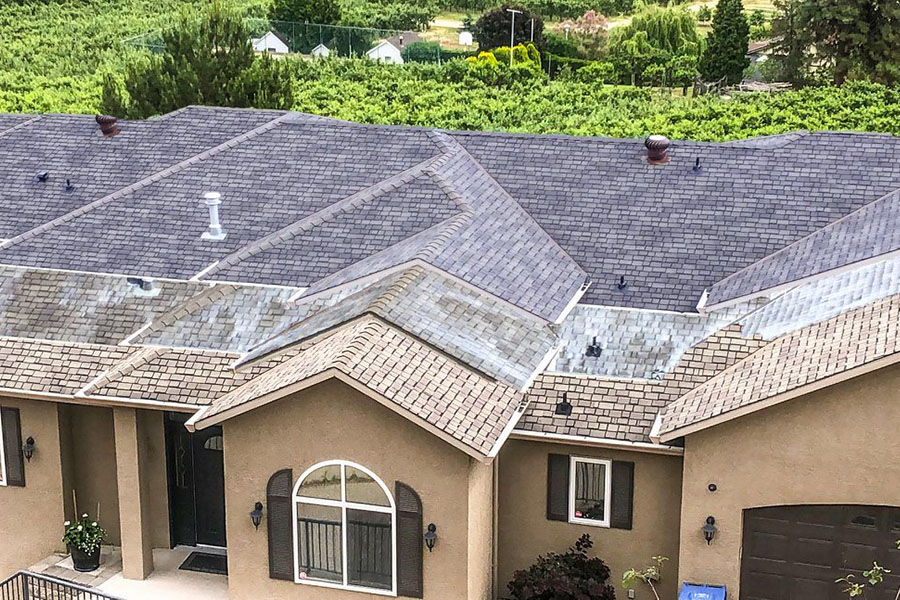 search